This post may contain affiliate links. Please see my full disclosure policy for more details.
I made the switch from Verizon to Tello and have been using it for one month so far. This article holds my honest one-month review of Tello Mobile. If you have been looking for an alternative cell phone service and have been considering Tello, then keep reading so that you can make an informed decision.
I have been a long-time customer of Verizon. The network was always reliable, even in the mountains, when everyone had no service. But, I wasn't thrilled with the price. Before I made the switch, I was paying $127/month for two smartphones and 4GB of data with unlimited talk and text. I was paying $156/month at one point but I was able to bring it down with these tactics.
After listening to a financial podcast, I learned that some people actually pay less than $30/month on their cell phone plans! And buy this, I mean less than $30/month total for all lines and all fees (not per line). I wanted some of that cake so I began researching alternative companies, specifically MVNO. Coincidentally, I received an email from a Tello representative asking me to try it out, so here we are!
Who is Tello Mobile?
Despite what everyone thinks, Tello Mobile is not a new mobile provider. Its mother company, Keep Calling, has been around since 2002, offering millions of calling services. Tello mobile was launched in 2016.
Like other MVNOs, Tello is a wireless provider that piggybacks on larger networks, allowing them to deliver coverage at a better price. They were using the Sprint network until recently. This was bought by T-Mobile, and Tello has since switched to the T-Mobile GSM network.
Tello's service is ideal for people that don't want to be locked into a long-term contract or pay unnecessary fees. With Tello, there are no random charges, like phone activation fees, making their services more affordable. Tello is also known for its fast and friendly online customer service.
Here is our complete Tello mobile review:
Tello Mobile Pros and Cons
Pros
Very affordable pricing
Flexible calling options based on your calling, texting, and data usage
Allow free tethering to other devices
Huge variety of phones to choose from
All options include free unlimited text
Minutes can be used for calls to the US, Canada, Mexico, China, and Romania
No ring time charges
Has a good Wi-Fi signal just about everywhere
My Tello App allows you to make roaming calls on Wi-Fi
Keep your existing number
24/7 customer service available online and by phone
Has a referral program
Cons
No national or international roaming
Coverage in some rural areas isn't great
Phones are not subsidized
No retail store locations
Tello's Customizable Plans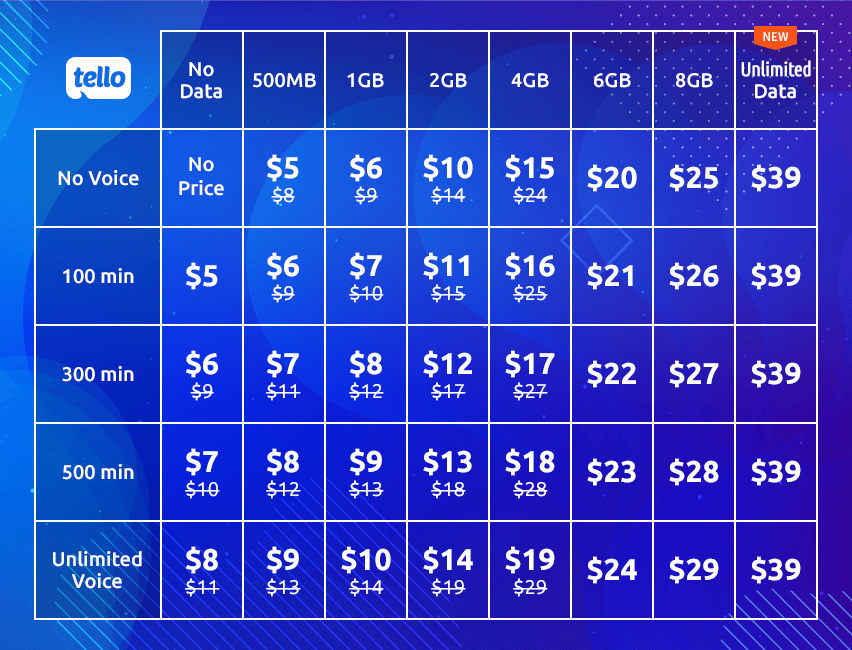 Their plans aren't set like those of traditional mobile carriers. On their site, you can either choose one of their affordable ready-made deals or build your own plan.
Ready-made plans
$10/month for the Economy package – unlimited talk and texts, 1GB of data
$14/month for the Value Package – unlimited talks and text, 2GB of data.
$19 for the Smart Package – unlimited talk and text, 4GB of data.
$39/month for the Data package – 25GB of 4G LTE data or unlimited 2G data, and unlimited talk and text.
If you aren't interested in their ready-made packages, then you can build your own plan. These start from as little as $5 to as much as $39 per month.

How Much Will I Pay with Tello?
The least you will pay with Tello Mobile is $5 for one plan. This includes either 500Mb of data or 100 minutes of talk. If you want an emergency phone for your child for after school, this would be the perfect fit. The most you can expect to pay for one plan on Tello is $39, making it one of the cheapest wireless services out there. I chose to build my own plan with 4GB of data and 300 minutes of talk time for an affordable $17 a month. Even with an online business, this package is perfect for me.
I can change the plan anytime, even in the middle of the month, and my minutes are carried over at no extra charge. All plans are automatically renewed every 30 days. This flexibility is great for people with changing needs.
Current 2021 Deals
Currently, Tello is offering three deals on their services.

How Good is the Coverage with Tello?
Most users in areas with T-Mobile coverage have good coverage with Tello. They use the same towers. I switched from Verizon to Tello so for me, there was a notable difference. In my area, Verizon trumps T-Mobile. So if T-Mobile has strong coverage where you live, then you should definitely give Tello a try.
However, if T-Mobile's coverage is spotty or non-existent where you live, then it's probably not the best fit. There are other plans that will work although not as customizable or as frugal as Tello.
Tello Mobile is very upfront about their coverage. In fact, you can check the strength of your coverage here before you ever commit. It will tell you if you have coverage and whether you have coverage outside, in your vehicle, in your home, and in a commercial building.
Quite honestly, I only had the green icons on outside and in-vehicle at my current address but I thought I would give it a try anyway. And you know what? I have coverage inside my home too. So, I think Tello underestimates their coverage to make sure their customers are happy.
Buy a Tello Cell Phone or Bring Your Own Phone (BYOP)
Tello offers a wide assortment of mobile phones on their website if you choose to buy one, or if your current phone is not compatible. These phones meet all budgets and include refurbished phones. From a Coolpad Snap to an iPhone X, you have plenty of choices.
I decided to bring my own phone: a Samsung Galaxy S8. It was already paid off and compatible so I brought it along.
Check to see if your phone is compatible with Tello Mobile here.
My Experience: So Is Tello Mobile Really Worth It?
Okay, so everyone's experience is a little different. In this Tello Mobile review, I'm going to give you details on how I used Tello day to day to give you a perspective.
Using Tello Mobile in a Rural Area
I live in a rural area. We live on 4+ acres and it takes about 35-40 min for me to get to work in the city. I don't talk on the phone much which is why I chose the 300 minutes plan. Why pay for unlimited talk when I don't even take advantage of it?
Plus, if I ever thought that I needed more minutes, I could upgrade anytime I wanted.
My data usage
I also use Wi-Fi 90% of the time. I have become very custom to using data over Wi-Fi only. This is how we got to bring down our Verizon bill to a shared data plan of 4GB.
The only time I use data is when I want to play songs in my car for the kids, or when I need to use Google Maps on the road. I always download podcasts over Wi-Fi at home or work, then I can listen to the podcast data-free in my car.
Since I have an online business, I keep work at home as much as I can. There might be a time when I need to answer an email or respond to a social media comment and so I will turn on the mobile data to complete the task, then turn it off again.
Free Wi-Fi is everywhere; grocery stores, coffee shops, fast food places, libraries, and even tire shops. So I take advantage of it when I can.
I also set Google to allow me to view and edit documents offline so that I can continue to work on the go. This allows me to jot down ideas, write a few paragraphs, or create a task lists on the go.
The downsides during my month of use
In the month of my trial, I had one dropped call. I had to go outside because the kids were too loud. Once I got further from the house, the call was dropped. I think the call was initially over Wi-Fi, then couldn't transition to the tower fast enough? I'm not sure exactly what happened but the call was dropped.
Since my free month ended, I have had two experiences of "you're breaking up". My in-laws have T-Mobile and their coverage is the exact same. In random areas of the home, the service is subpar. I'm okay with this since I don't talk on the phone very much but it is something to consider if you are coming from Verizon or other service provider where you have excellent service, or if you talk on the phone a lot.
As far a texts go, after my free month was over, I experienced two instances of not receiving multimedia in a timely matter. It would show up as "failed to download attachment". This would happen when someone would send me a long text message where it converted to a multimedia message. It would then show up the next day. It doesn't happen every time but something to consider as part of this Tello Mobile review.
Also, Tello is very upfront with their coverage. For my location, it showed that I had 5G coverage outdoors and 4G coverage in my car. It also said that I had either no coverage or partner coverage inside the home. So, my expectations were not very high as far as coverage went. However, as mentioned above, I believe Tello underestimates their coverage to please their customers. I have since made several phone calls from inside my home without a dropped call.
FAQs
Can I make other international calls?
Tello offers Pay As You Go to use with your plan. Charges vary according to the country. For example, a call to the UK costs 0.7 cents/minute, whereas a call to the Philippines will cost 13.9 cents/minute. You can see the rates here.
Will I have good coverage in my area?
Tello's service is powered by the T-Mobile Network. That means their coverage will be good in areas where T-Mobile has strong coverage. You can enter the location you are interested in on Tello's coverage checker page to get precise details.
Will I have international roaming with Tello?
Currently, Tello does not support national or international roaming. Check their coverage area before signing up. You can make Wi-Fi calls if you have internet in your area.
Can I keep my old number when I switch?
Yes, you can keep your old number when you switch. The porting process is simple and Tello will walk you through the process when you switch.
Final Take on Tello Mobile Review
With this Tello Mobile review, I can honestly say that Tello Mobile is a good wireless provider with affordable pricing and flexible plans. For those living in an area with good T-Mobile coverage, Tello is an excellent choice. Despite some of the minor downsides I experienced, I am going to continue using Tello as my wireless provider.
At this time, I have no reservations recommending Tello Mobile as an alternative, so long as you do your due diligence in checking your coverage, you aren't a data super user, and you aren't a frequent international traveler.