How to Have A Minimalist Baby
It's funny how the more children you have, the more you appreciate having less things. This article will focus on how to have a minimalist baby.
I remember being that first-time mom, applying for my baby registry at multiple locations and following every baby registry list that I could find. I had a huge list of things that I thought I needed. I didn't end up using at least half of what I had.
All of those registries are designed to get you to buy, obviously. I've also seen registry lists with high-end super expensive items that aren't necessary either. The truth is, babies don't need much.
Go to a super crunchy (all natural) website or a true minimalist website and you'll find the bare minimum. My hats off to those mamas who pull that off. No bottles (ever), no place to sleep other than the family bed, and no stroller?
However, most parents are beyond busy and could use a little convenience when raising their children.
Let's face it, having too little things for your baby can be really inconvenient but having too much leaves your home cluttered and difficult to keep clean. I've decided to put together a list of essentials to make life simpler and convenient with a minimalist approach.
Use this list to guide you in your motherhood journey.
This post contains affiliate links.
Feeding your Baby
However you decide to feed your baby, chances are you'll need supplies. Some people think that if you breastfeed, you won't need to purchase anything. Unless you are a stay at home mother with a rock solid milk supply, never stray from your baby, no latch issues, no leaking, and are pretty much perfect then this may be true. But if not, you'll need supplies even if you breastfeed your child. I've included all the "why's" behind every list point.
Breastfeeding
1 Breast pump– If you are a working mama outside the home, want to increase your supply, or go on a date night, you'll need a pump. I have this one and it's absolutely amazing. It's super portable and I can literally walk around while pumping! Most insurance providers can offer you a pump free of charge. Call your insurance to find out how. Just don't forget extra replacement parts since it's recommended to change them every 3 months or so.
1 Pumping bra– To make double pumping MUCH easier and less time consuming, you won't regret buying a pumping bra. I have this one and I absolutely love it. Minimal tip: you can make your own with a sports bra you already have. Just cut two small slits where the nipples are, and whalaa!
4 Bottles (best if compatible with your pump and feeding)- If you plan to leave baby for any time period longer than his feeding frequency then you'll need a bottle or two. It's difficult to determine what kind of bottles your baby will like. I remember with my first  son (formula fed), it took a few bottles to figure it out. With my other two, they took the Madela bottles and slow flow nipples just well through the entire breastfeeding journey. I just pump into the bottles, place them in the fridge when I get home from work, then he drinks from the same bottles while I'm at work. I have 8 of these bottles but I could get by with only 4.
Breast-milk storage bags– If you are going to be storing any milk in the freezer, I highly recommend these bags. It makes it easy to thaw, warm, and serve to your baby. They are necessary if you plan on building a large stash to freeze. Minimal tip: you can purchase a few glass jars as an alternative. Keep in mind that once the milk is thawed, it must be consumed within 24 hours if placed in the fridge after thawing.
Breast pads– Many women experience leaking from their breasts. To avoid that embarrassing moment, you may want to purchase  some pads.  Cloth breast milk pads are now a thing and are totally minimal. Just throw them in with your normal laundry! 5 pairs would do just fine.
1 Bottle brush– This is a necessity for me. I don't really know how else to get to the very bottom of the bottle. For convenience, I get the ones that have the nipple brush stored inside.
Formula feeding
4 Bottles- see reasoning above.  The less bottles, the better. Who wants to wash so many dishes right?
1 Bottle brush- a must have if you will be using bottles
Starting solids
High chair- Unless you want to hold baby ALL THE TIME, you'll need something for him to sit in. This doesn't need to be your standard high chair. You can chose to purchase a strap on seat as well.
Sleep and your Baby
This is a personal choice. Which ever way you decide your sleeping arrangements will determine what you will need. My sleeping arrangement was different for all three kids, so I've listed  a few ways to do it. You might chose one way or a little bit of everything.
NOTHING- Co-sleeping is obviously very minimal. Please be sure to follow safe bed sharing if that's what you chose to do. This is optimal if you want to have a minimalist baby.
1 Crib– I always thought everyone needed a crib. My first son used it from 3 months to over 2 years. My second son never used the crib. Turns out, not everyone needs a crib. It just depends on how you decide to sleep. For my third baby, we are using the crib in our room. He naps and starts the night in his crib then comes into the family bed for the rest of the night.
2 Swaddles– this is another iffy you'll just have to find out for yourself. My first two boys despised the swaddle but my third absolutely loves it. He is still swaddled at almost 6 months now.
1 Pack n Play- I used this heavily with my first son. It came in handy when we would travel for holidays or visit the grandparents.  I used it very little for my second son. The only time we used it was when he was a newborn. We have not yet used this for my third son. I no longer see the need for one now that the Rock-n-plays were invented. These are so much lighter and great for travel. However, I still have not used wither a pack n play nor a rock-n-play for my third son just yet. So if you want to be very minimal, you could definitely do without these. I put these on the list because many moms swear you need one.
Clothing your Baby
Babies grow super fast. Most of the time, your kid will wear that super cute expensive outfit ONCE. Yup. Once. Here is a list of the bare minimum of clothing needed for infants I have put together after having three kids.
Babies NB- 5 footed pajamas, 5 onsies, 5 socks, 3 beanies/hats, 1 outfit
3 months- 5 footed pajamas,  5 onsies, 5 socks, 3 beanies/hats, 1 outfit
3-6 months- 5 footed pajamas, 7 onsies, 5 socks, 2 beanies/hats, 5 pants/shorts, 1 outfit
6 months- 5 footed pajamas, 7 onsies, 5 socks, 2 beanies/hats, 5 pants/shorts, 1 outfit
6-9 months – 5 footed pajamas, 5 onsies, 5 shirts/longsleeve, 5 pants/shorts, 5 socks, 2 beanies/hats, 2 outfits
9 months- 5 footed pajamas, 5 onsies, 5 shirts/longsleeve, 5 pants/shorts, 5 socks, 2 beanies/hats, 2 outfits
9-12 months- 3 footed pajamas, 5 onsies, 7 shirts/longsleeve, 5 shorts/pants, 7 socks, 2 beanies/hats, 2 outfits
12 months- 3 pajamas, 7 shirts/longsleeve, 5 shorts/pants, 7 socks, 2 beanies/hats, 3 outfits
Diapering your Baby
Cloth diapering
15 cloth diapers– you will need to wash cloth diapers at least every 3 days. This is not only best practice on hygiene for the diapers, but it also gives them a chance to last. You can buy Pocket diapers, All-in-One (AIO), Hybrid diapers, or use inserts or flour sack towels with diaper covers. There are a ton of possibilities. The most convenient are the AIOs, but the most minimal and cheapest is the flour sack towels and diaper covers. You would only need to buy 15 towels and 7 diaper covers as you will be able to reuse them if they aren't soiled.
2 Wet bags– This is where you will store your soiled diapers until wash day. Tip: don't put a lid on it, let air out so it won't be so stinky
1 Diaper sprayer– this will be your best friend for when your baby starts solids. You will need to get as much poop off the diaper as you can before throwing it the wash.
Disposable diapers
2,816 Diapers– 2,816 is the average amount of disposable diapers you will need in one year. There are hundreds of brands to chose from. Every baby is different so what works for one family may not work for the next. This is why I recommend getting a variety package from Diaper Dabbler. There are tons of different packages to chose from whether it be eco-friendly, or big brands, small package to ultimate packages. It's so helpful to be able to try out 2-3 diapers to make sure it will be a right fit for your baby because how crappy would it be if you bought all Huggies but your baby reacted to them, or if you bought all Luvs but they leaked every time? Try out Diaper Dabbler.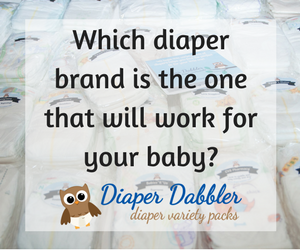 1 Butt cream– Hopefully your baby will never get a rash but if they do, you'll want to treat it with some bottom cream. I use Earth Mama Angel Baby because I also use cloth diapers and this formula is safe for cloth diapers and it smells so good!
Wipes- Get as many as you can. As a third time mama, I still use baby wipes with my 5 year old for various messes. My advice is to stock up on wipes when the prices are extra low. But as with diapers, you'll need to find out which brand(s) work for you and your family.
Playing with your Baby
A young baby doesn't need any toys, your face and the world is enough to stimulate him. As your baby grows, you may decide to introduce a few toys or lounge products for him to enjoy while you get some stuff done.
1 Play mat– I have this one and have used it for all three of my kids. I definitely use this for when I need to clean, cook, or go to the restroom.
Decide between a Swing or Bouncer– You really don't need both. Choose one or the other if your goal is to be minimal.
Teething and your Baby
Teether- babies love to knaw on something when they are teething to give them relief. There are hundreds of products to chose from. You only need one or two.
Washcloths- good 'ole frozen washcloths can do the trick.
Traveling with your Baby
Car seat– For my third baby, we ended up starting out in a convertible car seat. That way, we only had to buy 1 car seat! Plus, our allowed us to fit 3 across in my sedan. Big plus!
Stroller- When I had my first son, we were gifted a travel system complete with a newborn car seat and a stroller to fit. We still have the stroller today. If you don't plan to baby wear, then I would definitely put a stroller on the top of your list. I wore my second son quite a bit and didn't use the stroller until he could walk because he wanted out of the wrap.
Baby Carrier- A life saver. These are the best things in modern parenting. There are many ways to carry your baby. Wraps, Soft structured carriers, Stretchy wraps (newborns), Standard Carriers, Hybrid carriers, and Ring Slings are all ways to carry your baby. Find what fits you and your baby. I chose to wrap my sons then transition to a Tula carrier when they grew bigger.
Health and your Baby
1 Thermometer– we have this one and it's so easy to use
1 Health pack– make sure it is complete with a nail clipper, nail file, baby brush, and comb
1 Nose Frida– I personally don't have one but it's on the list because other moms swear by it.
1 Humidifier
1 Bath– If you were really minimal, I suppose you could get away with bathing with your baby. I like a little convenience so I chose to buy a simple bath.
2 Bath soaps
Well, there you have it. A minimized list of baby essentials for today's parents. Would you add something or delete something? Let us know in the comments!